Welcome to my collection of Greeting Cards
Each one is made from quality card and decorated with 'fimo' mini pet, flowers or embellishment. Each card is approx. 10cm x 14.5cm and comes complete with an envelope. Each card has an insert which reads the same as it front.



wedding card
reads ~ "congratulations on your wedding day"
£2.99 each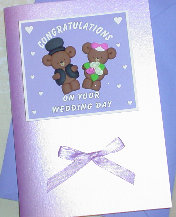 new baby card
reads ~ "congratulations on the birth of your little boy"
£2.50